Tue, 11/01/2022 - 10:17am
Responding to the Pressing Needs of Ukrainian Christians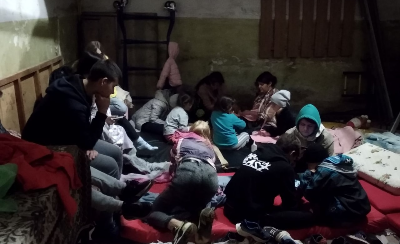 The apostle Paul, though uncertain how much longer his life would last, was confident of his resurrection and reward as a faithful follower of his Lord (2 Timothy 4:18). Yet he was still human. He implored his spiritual son and co-laborer Timothy to make haste to come to him in Rome, where he was imprisoned. Paul was displaced from where he otherwise might have chosen to live, and he depended on his brothers and sisters in the Lord to supply his basic needs. Paul mentioned certain people who encouraged his endurance and faithfulness and continued to meet his needs.
Like the apostle Paul, Ukrainian Christians are separated from loved ones. They have surrendered their worldly possessions for safety. Many do not have homes to which they can even consider returning. Their places of worship and fellowship have been destroyed. They are too familiar with scenes like the picture above, where children are huddled in a shelter while sirens warn of danger. Many Christians still in Ukraine are keenly aware of the uncertainty of the future.
In response to the pressing needs of the Ukrainian Christians, SIBI's Global Relief Ministry is implementing a long-term plan of intervention to assist our brothers and sisters spiritually, physically, and emotionally.
SIBI is addressing long-term needs in the following ways:
Securing Supplies: Along with Global Samaritan and Breedlove Foods, SIBI sent three shipping containers of food and personal items that will be delivered in Ukraine. These containers include the coats, blankets and sleeping bags discussed in previous emails. This is in addition to the supplies that are regularly purchased in Poland and taken into Ukraine. 

Distribution of Supplies: Working with the Volunteer Brothers from Let's Love and the Poznyaki Church of Christ, SIBI has secured warehouse space in strategic locations for both organizations. In light of the current news of damage to the infrastructure of Ukraine, these supplies could mean the difference between life and death for many.

Partnerships with Other Ministries: In early October, SIBI, World English Institute and Partners in Progress, hosted the European Vision Workshop in Rome to connect with churches in all of Europe. We continue to partner with Healing Hands International and other ministries committed to helping Ukrainian Christians. SIBI is partnering with a ministry in the Kremenchuk region to purchase firewood and generators for refugees that are already feeling the chill of winter.

Preaching the Word: Through all of the turmoil, hearts are turning to Christ. Churches are still reporting baptisms. GRM funds have also contributed to the Ukrainian translation of a book by Thereasa Winnett, Helping the Children of War. Churches are using this book to help children address the trauma in their lives.

The apostle Paul told Timothy, "Do your best to come to me soon" (2 Tim. 4:9; ESV). Paul knew that when Timothy arrived, he could help provide for Paul's physical needs of food and warmth. He wanted Timothy to bring his cloak because the temperatures would soon be dropping. He looked forward to having his "books, and above all the parchments" (2 Tim. 4:13) that would provide spiritual nourishment and help him minister to others. Paul exhorted Timothy to "come before winter" (2 Tim. 4:21).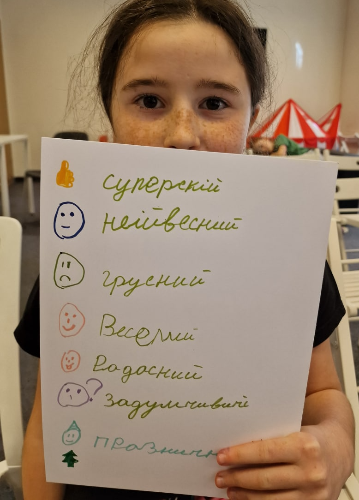 How You Can Help
PRAY
Pray that the containers will reach the people in time for winter.
Pray that the aid we send will continue to open doors for the Gospel to be preached.
Pray for an end to this war and the loss of life.
GIVE
Give so that Ukrainians will continue to know they have the love and warmth of God. You can help SIBI in our efforts to provide supplies that will be vital to the survival of millions of people during the approaching winter.
Other ministries are contacting SIBI for additional assistance as the needs continue to grow in the winter.
Donations can be sent 1) online at the link below, 2) by text to "Ukraine" to 806-203-7424, or 3) by mail to SIBI at the address below with a designation for Global Relief Ministry.
TELL
Tell others how they can Cover Ukraine with Love.
Share